Massage Practice for Sale on Hawaii Island!
 ~ Unique opportunity for an experienced massage therapist!
~ Fully-established, thriving medical massage practice!
~ Huge growth potential from current and potential market niches!
~ Owner retiring from 40-year career, with 25 years in current location!
This full-service massage therapy clinic is located within the largest medical office center, in the heart a charming historic ranch town of 8,000 population, and serving a surrounding island community of about 50,000 people. Situated in an idyllic country setting, this small, friendly community is at a cool refreshing 3000 ft. elevation, at the base of Mauna Kea, on the Big Island of Hawaii. The clinic is within walking distance of residential neighborhoods, retail and professional services, schools, churches, parks and community activities. Pristine beaches and interesting hikes are nearby, along with the variety and beauty of the entire Big Island!
The business is currently on a 5-year transferable lease with a very reasonable monthly rent amount. Our Massage Therapy Clinic is approximately 900 square feet with a reception/entry area, business office, one full-time treatment room, 2 part-time treatment rooms, restroom, conference room, kitchen and break room. There is ample free parking.
We are unique in our community as the only local clinical massage therapy practice working in wellness-oriented collaboration with other health professionals. We have a strong referral base of physicians and practitioners within our building – internal medicine, family medicine, neurologist, pediatrician, osteopathic physician, naturopath,  acupuncturist, podiatrist, with more specialties scheduled to move into the building soon. We also receive referrals from other community healthcare providers, including midwives, nurse-practitioners, chiropractors and physical therapists.
Our clinic specializes in treating muscle and connective tissue pain from injuries, chronic pain conditions, surgeries, pregnancy and a variety of medical disorders. We're excited about two new facets to our practice: offering our services to Hawaii's visitor industry; and spa skin care services, with potential for big, fast growth in both of these areas!
We also developed and managed a hospital-based massage therapy program at North Hawaii Community Hospital. We offer classes and workshops in Perinatal and Infant Massage; Marketing for Wellness Professionals based on The Prosperous Practice Marketing System; Family Massage; monthly talks on variety of massage and health topics.
Our current staff consists of: one owner-manager-lead therapist, two contract massage therapists, an office assistant and a clinic assistant. We recently opened a new market niche, Hawaii's tourism industry, which is starting to generate rapid revenue! With our constantly growing client base, we plan to hire 1-2 more staff therapists in the near future.
Our clientele consists primarily of two groups:
1. Injury and illness patients referred by MDs and other health professionals, usually for a series of treatments; auto insurance/workers comp cases and private pay clients.
2. Repeat clients who value massage therapy as a regular part of their health care.
We advocate massage as part of a healthy lifestyle and we maintain a high standard of providing effective, quality therapeutic-based work for our clients. We welcome clients who need help with pain from car collisions, work accidents, sports injuries, repetitive strain syndromes and chronic pain disorders; and those who are interested in taking regular consistent care of themselves. Our Treatment Packages allow a lower cost to our long-term clients who are committed to ongoing care for weeks, months or years. We collaborate with other community health practitioners, assessing our clients' needs and suggesting other types of care when appropriate. Our philosophy is that client care takes top priority.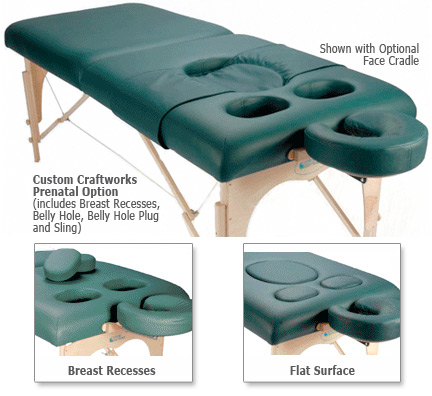 Sale of business includes complete inventory of equipment and supplies, including but not limited to: regular massage table, pregnancy/surgery massage table, massage chair, desktop massage support, Body Support System®, sheets, towels, face cradle covers, pillows and blankets, heat/cold packs, bodywork library, The Prosperous Practice Marketing System and more.
Owner will provide 50 hours of consultation for buyer, in the areas of: business practices, marketing, client care, clinic operations and networking.
Profit and Loss Statement available upon request to potential buyers.