Got Kinks from the Links? Massage Therapy for Golfers!
Did you know that August is National Golf Month? Tell all the golfers you know about our Golfer's Advantage Treatments, with exclusive offers and special prices on services and gift certificates for the entire month of August!
As one of the most popular sports in the world, golf has about 30 million people the game worldwide, and 13 million in the US. Once considered a "mind game," with much attention on strategy and mental focus, golfers are coming to understand the body's vital role in playing their best game.
Today's golfers need to have a well-developed upper body as well as general strength, endurance and fitness. Injuries can arise from weak muscles, exacerbated by poor technique, unbalanced posture and repetitive movement.
Many professional golfers receive and recommend regular massage treatments to help prevent little aches from becoming a big pain in the you-know- what.
Whether a big-bucks pro, a seasoned amateur or a hopeful novice, there are some common ailments among golfers.
Most significantly, because golf is a one-sided activity, the body's musculature is used in an unbalanced way. This results in more strain on one side of the body, depending on right- or left-side dominance, posture, technique and other variable factors. A therapeutic massage, given by a therapist trained in golf injuries, can correct this imbalance by assessing and treating the affected areas and educating the golfer in stretching and exercises customized for their individual situation.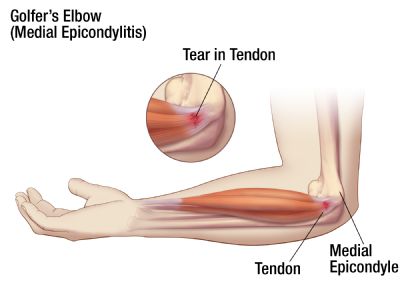 The most frequently-occurring golf injury is "golfer's elbow," clinically known as medial epicondylitis. It affects a golfer's swing, as well as causing severe pain with elbow, wrist and hand movements. Treating golfer's elbow should be in the repertoire of any good massage therapist who specializes in golf injuries.
Other significant problem areas are shoulders and hips, where repetitive strain, inflammation, swelling and pain can develop. Left untreated, this type of injury can worsen to the point of affecting a golfer's game – or taking him out of the game entirely!
The feet, ankles, legs, gluteals and back all affect the stability, power and precision of the golfer's stance and swing. The goal of golf massage is to signal the brain to relax contracted muscles, stimulate blood and lymph to prevent soreness, soothe inflammation, relieve pain and prevent injury.
There is a difference in the type of injuries suffered by amateur and professional golfers. Amateurs are more prone to muscle strain, golfer's elbow, calf and hip issues. Pro players' primary problem is pelvic imbalance.
What should a player expect from a specialized golfer's massage? A typical treatment is a 60-90 minute deep tissue treatment targeting the golfer's particular problem, as well as assessing and treating legs, hips, low back and shoulders. Extra attention is focused on the dominant arm to treat or prevent golfer's elbow.
When should a golfer receive massage? This depends on a golfer's individual situation. Massage prior to playing is recommended in the case of tight muscles and restricted movement. Treatment after a game helps prevent pain, stiffness and injury.
Says golf pro John Fischer, "The reason most people play golf is for the relaxation is offers. It's a wonderful stress-reducer, provides plenty of exercise in a beautiful setting and it's just plain fun!"
Of course, golfers want to enjoy their favorite game as painlessly as possible. That's where massage therapy enters the game!  And some therapists even use a golf ball as a treatment tool!